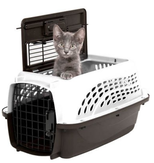 Prior to bringing your loving Registered Bengal kitten home you are going to want do get a couple things.
First, you will want to pick up a cat carrier which will be useful throughout the life of your Bengal.

What to Bring when you pick up your kitten:
Cat Carrier with small blanket or towel

Final Payment Balance in Cash

(Remaining amount due in cash, no checks)
What we Send Home
Official Purebred CFA & TICA paperwork - If the cat is purchased as a breeder,
We hold this until proof that the cat has been altered if purchased as a pet.
Health Records

Food Starter pack - Royal Canin - This will hold you for a few days until you can order or buy this product.

A started pack of Nu-Vet vitamins, Your kitten has grown up on this. You should order before your kitty arrives.

New Kitten Brochures

Your kitten or kittens.
​Picking up your Registered Bengal:


When you pick up your Bengal kitten it will have already received the first round of core vaccinations and deworming medication. You will need to schedule a veterinarian visit to complete any required booster shots when due. This will be noted on the paperwork that we provide for each kitten.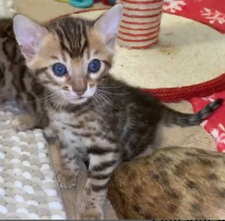 Bringing your new kitten home:
We suggest you set up his/her food, fresh water, and clean litter box in a room isolated from other pets. We recommend this "quarantine" period last about 2 weeks. It is important that your kitten is given adequate time to settle in to his/her new home before introducing other household pets. After your kitten has become comfortable around you and your family, we recommend slowly introducing him/her to the household pets and other rooms (this time frame varies depending on individual cat/kitten).
​Please supervise all visits until you are certain your kitten is safe and comfortable.
Your kitten will come litterbox trained but be aware there will be a transition period in which the kitten must become use to your home environment so do anticipate a little retraining. Keeping the initial living space small and litter boxes close will help facilitate.
Your kitten has been eating Royal Canin kitten food, we recommend staying with Royal Canin but If you do choose to feed your kitten different food, do expect a short period of loose stools while the kitten's digestive tract becomes familiar with the new food. Your kitten will be used to being handled and being in a home environment with children but do expect your kitten to be initially cautious or timid in his/her new environment. Given time and space, your kitten's natural curiosity should eventually lead him/her to explore your new home and become comfortable. This transition time period is different for every kitten. Toys with catnip will help to calm your kitten and bring out it's playful side.
Feeding your Bengal:
Cats are naturally carnivores and Bengals are more so due to their ALC (Asian Leopard Cat) hybrid roots. Therefore you should feed your Bengal only Raw (We feed raw from Raw Paws) dry and wet food that is high in protein and grain-free. There are several brands in the market that fit these 2 crucial criteria's. Wet food is essential and helps with hydration. Dehydration due to a dry food only diet will stress the Liver and lead to a domino effect of problems.

Your kitten has grown up on on Royal Canin Kitten food, both canned and dry. We offer unlimited amounts of dry food. One can of wet food daily is bestand we also offer a RAW diet daily. When you give your kitten it's wet food use a "food call" that signals it's time to come and get fed. This offers a chance to train your kitten to come to this "food call" so that should you ever need to locate your kitten you can use this call. If you do choose to change cat food brands, Make sure you don't use any food labeled for "Adults" until at least 1 year old. kittens don't eat much dry food as it's hard on the teeth and will eat mostly just wet food. Offer your kitten an unlimited amount of wet food to be left out all day and is good for 24 hrs. Whenever the dish is empty, even if less than 24hrs, then fill it up again. Kittens can eat as much as 3 cans of the 3oz a day or more. At around 12 weeks, the kitten should start transitioning to eating more dry food. By 16 weeks, you can start to limit the wet food down to just 5.5 Oz a day since the dry food should make up the remaining dietary needs. Water fountains are more attractive to the water-loving Bengals because instinct tells animals that running water will be less harmful to them than stagnate water. However, water fountains do require some maintenance as motors can become clogged. Keep the water and food bowls close together but not next to each other as any moisture can ruin the dry food, at least 2 feet apart. More water stations also increase hydration for "out of sight, out of mind" definitely applies. All carnivores have a low thirst drive.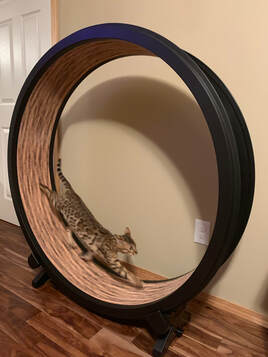 Cat Exercise Wheel
​We strongly recommend having plenty of toys readily available for your new kitten. Bengals are very active and require plenty of toys to "keep them out of trouble".

Because of how much energy Bengals have, an exercise wheel is an excellent investment. Every Bengal we have runs on our wheel, the kittens start using it once they can climb in! It is a great way for them to stay in shape and provides entertainment for them throughout the day while you are away at work. Wheels have been shown to curb bad behaviors and give you a happier Bengal

Cat Exercise Wheel by One Fast Cat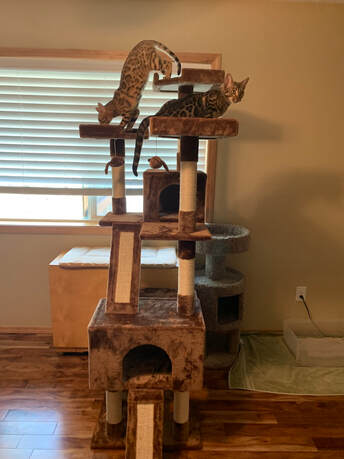 Cat Tree:


We suggest also investing in a cat tree for your new kitten which most come with built-in irresistible sisal scratching posts. They are relatively inexpensive and last a very long time. Bengals especially love residing in high places and hammocks. Cat wheels are also wonderful options to stimulate your Bengals.



We highly recommend having a cat tree that's at least 3 feet tall with at least one level useable for a place for the cat to sleep. They will scratch and play and sleep on them. They recognize them as their own 'special place'. Check out The Cat Factory for some great sturdy cat trees.

They should be located in a place that the family occupies frequently, in a lower traffic area (ie. a corner of a room vs right beside a busy hallway) and having it located near a window where they can bask in the sun is always a bonus! ​